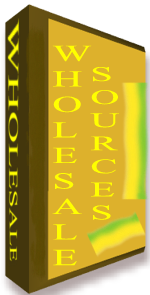 UK Traders UK Wholesale Guide
This e-Book was originally written in 2001 and was based on my experience as a seller on online auctions-I have been trading on online auctions since 1998. Since publishing the first edition, the guide has been updated several times and is now used by all manner of different traders, from online auction sellers, to market traders to car-boot fair sellers to traditional retail outlets.
The e-Book is packed full of UK wholesalers, many of whom I have used or do use on a regular basis. If you want to buy stock to sell at a profit, then this e-Book is for you.